Are you considering blepharoplasty or eyelid surgery to achieve a more youthful and refreshed appearance? One common concern that many patients have is the potential for scars after the procedure. In this article, we will delve into the truth about blepharoplasty scars and what you can expect during the healing process. We will also discuss techniques to minimize the appearance of scars and how Dr. Douglas Steinbrech, the leading specialist in cosmetic surgeries, can help you achieve your desired results.
Understanding Blepharoplasty Scars
Blepharoplasty, also known as eyelid surgery, aims to improve the appearance of the upper eyelids, lower eyelids, or both. This cosmetic procedure can address concerns such as excess skin, loose skin, puffiness, and under-eye bags. While blepharoplasty can yield remarkable results, it is normal to wonder about the potential for scarring.
During blepharoplasty, incisions are carefully made along the natural crease of the upper eyelids or just beneath the lower lash line. This allows for minimal scarring and provides access for the removal of excess skin and fat. However, each patient's healing process is unique, and it is essential to understand that some degree of scarring is inevitable. Your skin type, age, and even genetic factors can influence the appearance of scar tissue after the surgery.
Will Blepharoplasty Scars be Visible?
The visibility of eyelid surgery scars largely depends on the surgical techniques used and your skin's healing process. Upper eyelid scars usually reside in the natural eye crease, making them less noticeable. However, you might see some visible scarring if you have a hypertrophic scar tendency.
The Recovery Period and Scarring
After blepharoplasty surgery, the initial recovery process typically takes days to weeks. Immediately following the procedure, you may experience swelling, bruising, and discomfort, which are normal and temporary. It is crucial to follow your surgeon's post-operative instructions to ensure proper healing and minimize potential complications.
As your eyelids heal, you may notice some redness and visible scarring. However, over time, the scars typically fade and become less noticeable. The final appearance of the scars can take several months to a year to fully mature. While most patients are pleased with the results and experience minimal scarring, it is essential to be realistic and understand that variations in scarring can occur.
Time Frame for Fading of Blepharoplasty Scars
One of the most frequently asked questions regarding eyelid surgery is, "How long will it take for blepharoplasty scars to fade?" In general, surgical scars on the eyelid skin begin to fade noticeably within weeks to months after surgery. However, this can vary from patient to patient.
During the first few days after surgery, the application of ice packs can reduce swelling, thereby lessening the risk of scarring. Upper eyelid surgery often results in scars that are well hidden in the natural eyelid crease, making them less visible in the long run.
It's important to recognize that every individual's skin has its unique healing capabilities. Factors like age, skin quality, and even genetics can influence how fast or slow the scars fade. Eyelid scars can be less noticeable than scars from other facial procedures, but the risk of scarring still exists. Your surgeon will provide specific aftercare instructions tailored to your needs to minimize this risk and promote optimal healing.
Types of Blepharoplasty Scars: Incision Placement and Techniques
Understanding the types of blepharoplasty scars and the techniques used to minimize their visibility is helpful to patients considering this cosmetic procedure. The position and method of incisions used in a blepharoplasty procedure can affect the visibility of the scar.
During an upper blepharoplasty, the surgeon usually creates an incision within the upper eyelid's natural fold. This strategic placement allows the scar to be concealed in the upper eyelid skin when the eye is open. These are inconspicuous scars, and because the delicate eyelid skin heals well with proper care, these can fade and become very faint.
Depending on what is needed, the surgeon may make an incision for a lower blepharoplasty right under the lashes or inside the lower lid. The external eyelid scars from a lower blepharoplasty are typically well-concealed and become less visible over time. The external scars from this procedure are often so well hidden that they appear almost invisible, even just weeks after surgery.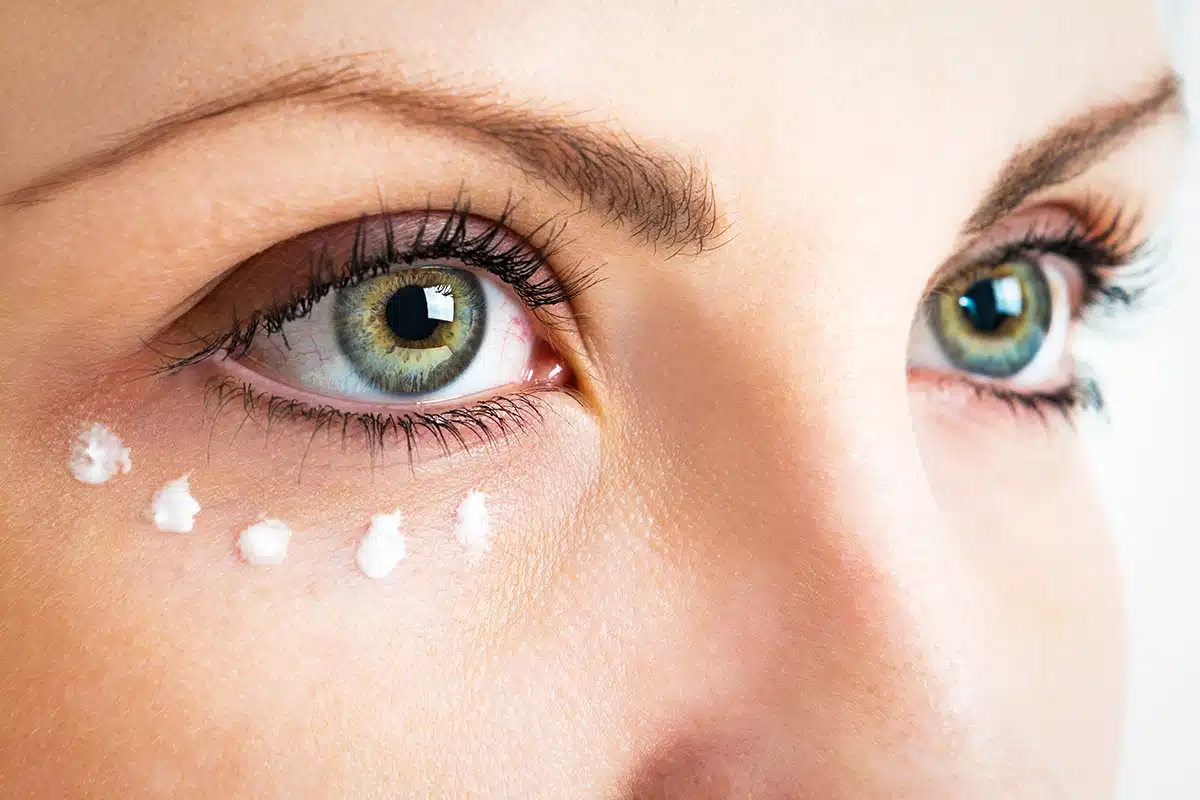 Potential Complications and How to Minimize Risk
As with any surgical procedure, blepharoplasty carries inherent risks. However, when performed by an experienced surgeon like Dr. Douglas Steinbrech, complications are rare. It is crucial to choose a qualified and board-certified plastic surgeon to reduce the risk of complications and ensure optimal results.
Possible complications after blepharoplasty include:
Bleeding
Infection
Delayed wound healing
Asymmetry
Dissatisfaction with results
To minimize the risk of complications, it is vital to disclose your medical history, including any existing eye conditions or medications you may be taking. Additionally, closely following your surgeon's pre-operative and post-operative instructions is key.
How to Choose the Right Surgeon?
When it comes to your appearance, it is essential to choose a specialist you can trust. Dr. Douglas Steinbrech, a renowned plastic surgeon, has extensive experience and expertise in performing blepharoplasty procedures. With his meticulous approach and advanced surgical techniques, he strives to achieve natural-looking results while minimizing scarring.
Dr. Steinbrech understands that each patient is unique and requires an individualized treatment plan. During your consultation, he will assess your specific needs, discuss your expectations, and provide personalized recommendations. Rest assured that you will be in the hands of a skilled surgeon dedicated to helping you achieve your desired aesthetic goals.
Conclusion
If you are considering blepharoplasty to enhance your facial appearance and address concerns about your eyelids, understanding the truth about blepharoplasty scars is crucial. You may be wondering how to manage blepharoplasty scars, while some scarring is inevitable, following the proper post-operative care instructions and working with a skilled specialist like Dr. Douglas Steinbrech can minimize their appearance.
Don't let the fear of scarring hold you back from achieving your desired results. Contact Dr. Douglas Steinbrech's practice today to schedule a consultation and take the first steps toward a more youthful and refreshed appearance. Remember, the journey to achieving your ideal look starts with a decision to take action.