Blepharoplasty New York – Eye Lift Surgery
Eyelid surgery, also known as an eye lift or blepharoplasty, is a cosmetic procedure that can improve the appearance of your eyes. When you reach middle age, your eyes can start to look tired, puffy, or saggy, and their appearance will only continue to worsen as you get older. Dr. Douglas S. Steinbrech is an award-winning plastic and reconstructive surgeon based in New York City who can perform eyelid surgery.
Uncover the Benefits of Refreshed Eyes with Blepharoplasty
The intricate dance of time and life can leave its marks around the eyes, an area central to your appearance. Blepharoplasty can remedy these changes, seamlessly blending aesthetics with functionality. Beyond the mere cosmetic allure, this procedure holds the promise of rejuvenated sight and an improved look.
Revitalized Appearance
Get rid of wrinkles and sagging skin and recreate a naturally youthful and invigorated aura to your gaze.
Clearer Vision
Move past the barriers of droopy lids and experience an enhanced field of vision as well as effortless contact lens wear.
Swift Transformation
Enjoy a concise procedure with minimal downtime that will deliver profound changes with ease and subtlety.
What is Blepharoplasty?
Blepharoplasty is a type of plastic surgery that involves the removal or repositioning of excess skin and fat around the upper eyelids to improve vision, remove sagging skin, and create a more youthful look. During blepharoplasty, also known as an eyelid lift or upper eyelid surgery, the surgeon will carefully remove extra skin from the upper lids to create natural folds in the lids and improve peripheral vision. After removing excess tissue from the lids, the surgeon may also tighten loose skin at the corners of your eyes.
Blepharoplasty can correct certain eye conditions, such as ptosis (droopy eyelids), which can significantly impair peripheral vision. It can also be used for facial rejuvenation by creating a smoother appearance around your eyes and reducing signs of aging like wrinkles or bags under your eyes.
Blepharoplasty is typically an outpatient procedure using local anesthesia. Recovery time varies depending on each individual. It generally takes between 1 and 2 weeks before patients return to their normal activities, with full results appearing within 3 months after surgery.
What Aging Problems Can Eyelid Surgery Improve?
Eyelid surgery (blepharoplasty) is a surgical procedure performed by plastic surgeons that can improve the appearance of your eyes. The most common aging problems addressed with eyelid surgery include redundant skin, drooping eyelids, fat pockets, and the appearance of wrinkles. Eyelid surgery can also help restore vision by removing any obstruction in the field of vision due to excessive drooping or sagging skin on the lids.
The goal of blepharoplasty is to create a natural eyelid crease and smooth out any wrinkles or bags around the eyes to create a more youthful facial appearance. During this procedure, the cosmetic surgeon will carefully remove excess skin or fat from the upper lid area, depending on individual anatomy. As part of the approach, the surgeon will also tighten loose skin at the corners of the eyes, if needed, for optimal results.
How long does blepharoplasty last after surgery? Generally, the effects can last for several years, although factors like aging and lifestyle choices may impact the longevity of the results.
Lower Eyelid Blepharoplasty: Reversing the Signs of Aging
Lower eyelid blepharoplasty is another type of surgery that addresses aging issues that affect the lower lids. Unlike upper blepharoplasty, which primarily focuses on removing excess upper eyelid skin and improving peripheral vision, lower lid blepharoplasty targets dark circles, puffy eyelids, and the tired appearance that comes with aging. The goal of lower eyelid blepharoplasty is functional and aesthetic, as lower blepharoplasty can significantly contribute to a youthful appearance. The procedure also complements the effects of upper eyelid blepharoplasty.
Surgical Techniques and Recovery
The doctor will employ advanced surgical techniques to ensure minimal visible blepharoplasty scar formation. The surgeon will strategically place incision sites to avoid any overt scarring. Once the incisions are made, the surgeon will remove or reposition fat deposits to achieve the aesthetic goal of rejuvenating eyes.
Postoperative Care
The doctor often recommends cold compresses to help reduce swelling post-surgery. Most patients find that their tired appearance is vastly improved, and puffy eyelids are significantly reduced. Patients must follow all post-operative care instructions to ensure proper healing of incision sites and achieve the optimal cosmetic surgery outcome.
Overall, an eye lift can significantly reduce signs of aging around your eyes and restore vision function, depending on specific medical conditions. Patients typically return to their normal activities within 1-2 weeks after surgery, with full results appearing within 3 months post-operatively.
Who Is a Good Candidate for Eyelid Surgery?
Good candidates for eyelid surgery are those who have loose or sagging skin around the eyes, puffiness, and wrinkles that make them appear older than they actually are. Candidates should also be in good overall health and have realistic expectations of the results. It is important to consult with a board-certified plastic surgeon to ensure that you are an ideal candidate for this procedure.
*Each patient is unique and individual results may vary.
Eyelid Surgery Risks and Complications
Eyelid surgery is generally considered a safe procedure. However, you should be aware of some risks and potential complications before undergoing the procedure. Blepharoplasty can cause bruising, swelling, infection, and dry eyes during recovery. In rare cases, patients may experience vision loss or changes in their eye shape as a result of the surgery. It is important to discuss these risks with your plastic surgeon prior to getting eye lift surgery.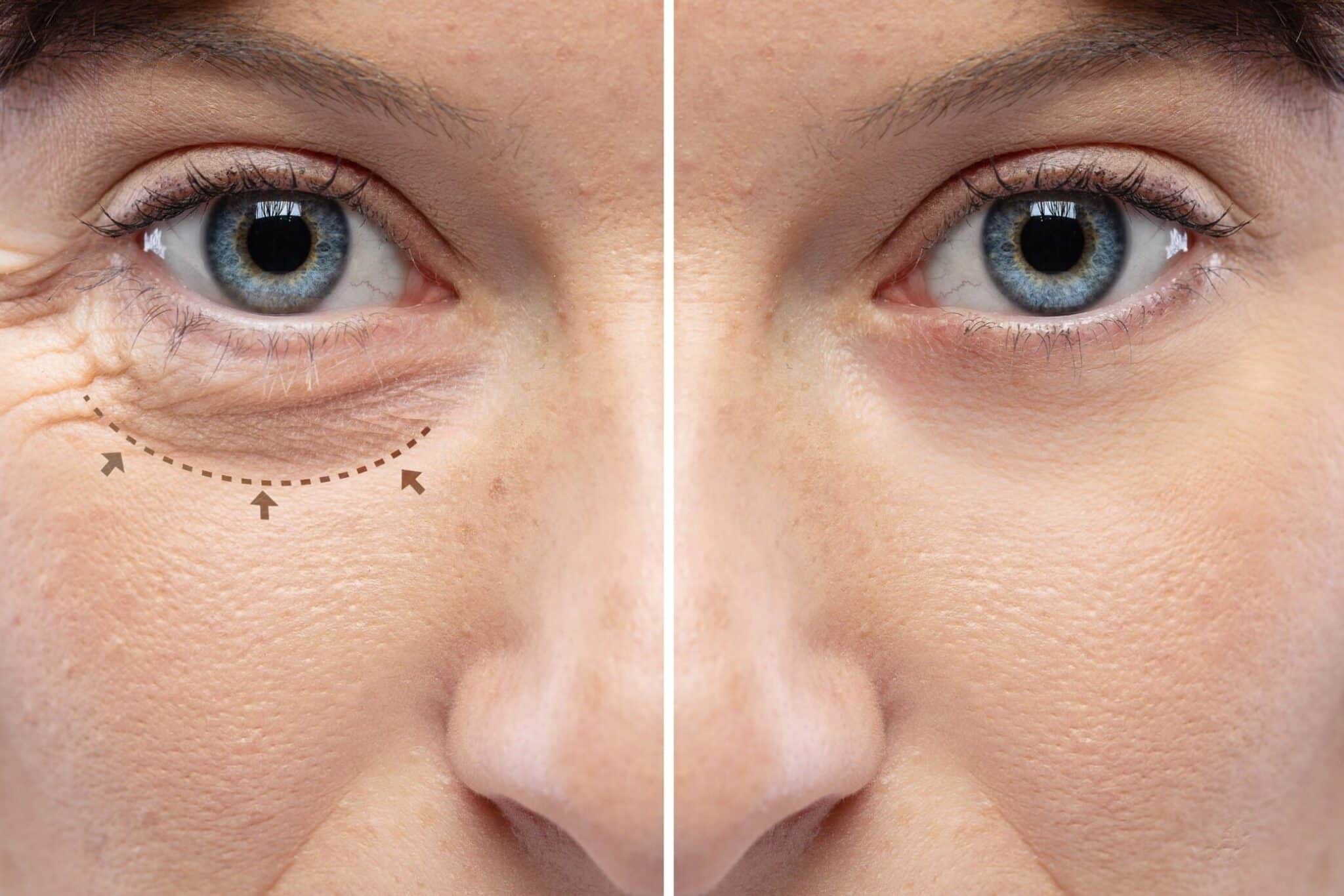 SPECIALIST CARE YOU CAN TRUST
Dr. Steinbrech is supported by a brilliant team of caring staff members. You can trust the entire staff to help make your visit as comfortable and safe as possible! Learn more about Dr. Steinbrech and our Staff.
Cost of a Blepharoplasty in New York City
The cost of a blepharoplasty procedure will vary depending on the individual patient and their unique needs. Generally speaking, the average cost of a blepharoplasty in New York City ranges from $3,000 to $7,000. The exact fee will depend on the complexity of your case and how much work is required to achieve the desired outcome. Many factors may influence the total cost, including anesthesiology fees, operating room costs, and any necessary post-operative care. You should discuss all costs related to your procedure with your plastic surgeon prior to surgery to avoid any surprises after the fact.
How Long Is the Recovery from Eyelid Surgery?
The recovery process for eyelid surgery typically takes 1-2 weeks. During this time, patients should follow instructions from their surgeon regarding any restrictions in activity, medications they should take, and when it is safe to resume wearing contacts or eyeglasses. Patients may experience swelling and bruising during the healing process. They must follow all of the surgeon's post-operative care instructions to ensure proper healing and optimal results.
WHY CHOOSE DR. STEINBRECH
Upper & Lower Eyelift Surgery FAQs
You may have a number of questions about the blepharoplasty procedure, and this is totally normal. It is critical to select a surgeon who is board-certified and has excellent patient satisfaction scores such as Dr. Steinbrech. You may want to write down all of your questions in advance of your surgical consultation and take some notes during your conversation so you the surgeon can answer all of your questions before proceeding.
To schedule a patient consultation with Dr. Steinbrech for blepharoplasty surgery, call (646) 949-0580 or fill out the contact form on this page.