Blepharoplasty, or eyelid surgery, is a cosmetic procedure that enhances the upper and lower eyelids' appearance, correcting droopy eyelids, excess skin, and puffiness for a youthful look.
Like all surgical procedures, blepharoplasty scars are a common concern.
This article will give readers an understanding of blepharoplasty scars, their healing process, and techniques to manage and minimize them.
Understanding the Healing Process
Scarring, including from blepharoplasty, is part of the natural healing process.
This process begins immediately after a blepharoplasty procedure, as the body responds to the surgical incisions made during the eyelid surgery. The initial healing involves the formation of a blood clot to stop the bleeding, which is a critical step in the healing process.
This is followed by the inflammatory stage, where the body sends white blood cells to the wound site to fight off potential infections, ensuring a quicker healing period.
The proliferation stage is next, during which the body produces new cells to replace the damaged ones. This stage is critical in the formation of scar tissue, which is a common concern for patients seeking cosmetic eyelid surgery. Scar tissue forms as the body's natural healing response to the surgical cuts made during the blepharoplasty.
Over time, the scar tissue remodels, and the appearance of scars changes, usually becoming less noticeable. This remodeling process can take weeks or even months after surgery, depending on individual variables such as the patient's age, skin type, and overall health.
Factors Influencing Scar Formation
The formation and appearance of blepharoplasty scars, including upper blepharoplasty scars and eyelid scars, are influenced by a myriad of factors.
These can be broadly categorized into individual factors, surgical techniques, and post-operative care. Individual factors, such as the patient's age, skin type, and overall health, play a significant role in the healing process and the appearance of scars.
For instance, the delicacy of eyelid skin and the degree of skin laxity can affect how well the incision scars heal. Lifestyle habits, such as smoking, can impair wound healing and lead to visible scarring.
Additionally, the patient's genetic predisposition to hypertrophic scarring or keloids can also impact the formation of scars. The surgical techniques used for the blepharoplasty procedure also significantly influence scar formation.
The expertise of the plastic surgeon can greatly affect the outcome as well. Following the surgeon's post-operative care instructions also plays a crucial role in minimizing visible scarring.
Managing Blepharoplasty Scars
Pre-operative Measures to Manage Scarring
Before undergoing a blepharoplasty procedure, there are several measures that patients can take to minimize the formation and appearance of scars.
One very important step is to maintain a proper skincare routine. This includes the use of gentle skincare products that are less likely to irritate skin, especially the delicate eyelid skin. Harsher products can potentially damage the skin, leading to more visible scarring post-surgery.
Another important pre-operative measure is to quit smoking. Smoking can lead to slower healing and give patients a higher risk of scarring. It's recommended to quit smoking several weeks before surgery to improve the chances of healing and reduce the risk of adverse scarring.
You also might be asked to stop taking certain medications that might interfere with your progress. Be sure to tell your surgeon about all of your current medications.
Post-operative Care and Scar Management Techniques
Following the procedure, it's essential to adhere to the surgeon's aftercare instructions for blepharoplasty scar management. This may include proper wound care, using prescribed scar creams or ointments, and protecting the area from direct sun exposure. Scar massage and silicone gel sheets can also help in the healing process and minimize the appearance of scars.
Tips to Minimize the Appearance of Scars
While some degree of scarring is inevitable, several techniques can help minimize the appearance of blepharoplasty scars. Here are some tips to promote optimal healing and reduce visible scarring:
Don't smoke
To promote faster healing with minimal scarring, it is recommended to avoid smoking and drinking alcohol, as they can cause dehydration and slow down the healing process. It is also important to maintain proper hydration.
Avoid sun exposure
Protect your incision sites from the sun's harmful UV rays by wearing sunscreen, sunglasses, and a wide-brimmed hat.
Use scar creams
After your surgeon gives the green light, you may benefit from using scar creams or ointments designed to reduce the appearance of scars.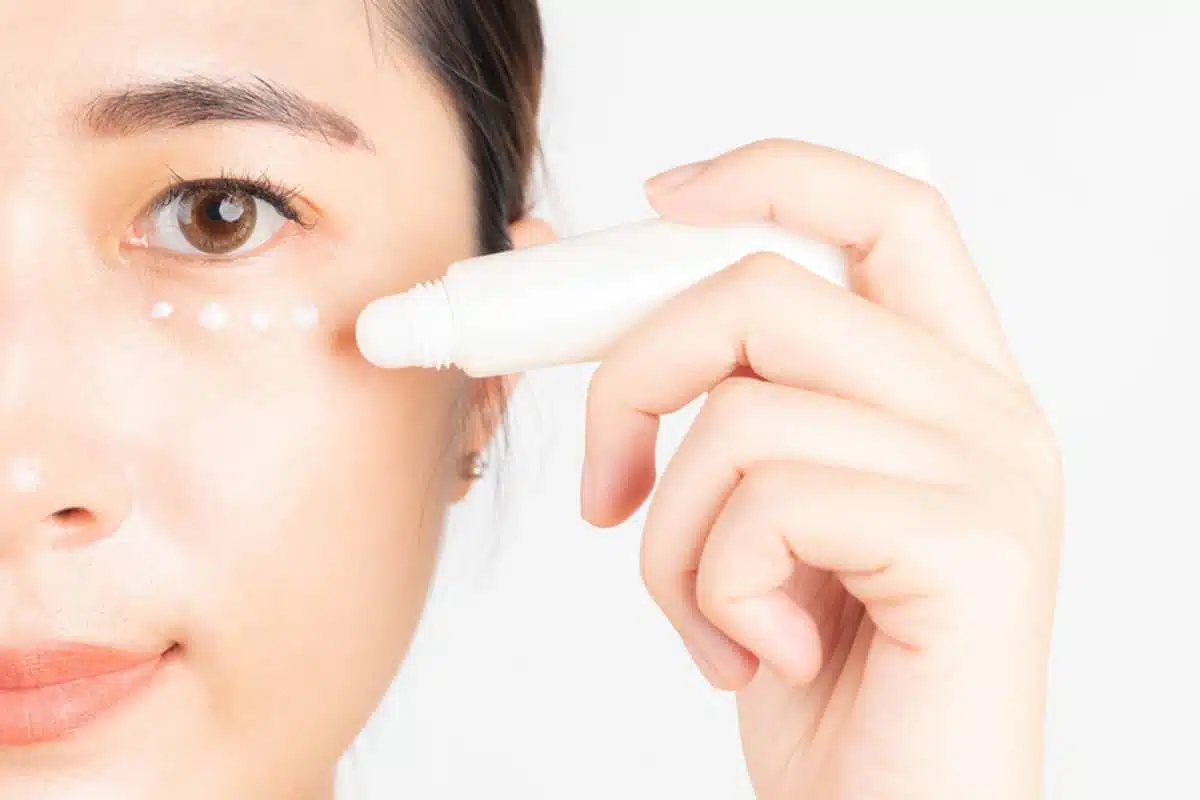 Consider laser treatments
Depending on your unique circumstances, your surgeon may recommend laser treatments to further improve the appearance of scars.
Maintain overall skin health
A healthy lifestyle, including a balanced diet, regular exercise, and adequate hydration, can contribute to optimal skin healing and reduce the risk of complications.
Professional Treatments and Procedures for Scar Reduction
Steroid Injections and Dermal Fillers
Steroid injections and dermal fillers are other options for managing blepharoplasty scars. Steroids can help reduce inflammation and slow down scar tissue formation, while dermal fillers can help fill in depressions left by scars, making them less noticeable.
Laser Therapy and Micro-needling
Laser therapy and micro-needling are professional treatments that can help reduce the appearance of blepharoplasty scars. These treatments work by stimulating the body's natural healing processes and promote the production of collagen and elastin, which can improve the scar's texture and color.
Emotional and Psychological Impact of Scarring
The physical healing process following a blepharoplasty procedure is undeniably important, and it's also important to acknowledge the emotional and psychological impact of scarring.
The appearance of scars, particularly eyelid scars resulting from cosmetic eyelid surgery, can significantly affect a patient's self-perception and emotional well-being.
While most blepharoplasty scars fade significantly over time and can be well-concealed within the natural folds and creases of the eyelids, some patients may still feel self-conscious about their appearance.
This is a common concern among blepharoplasty patients, and it's essential to address these concerns about blepharoplasty scars openly and honestly with your surgeon.
Conclusion
Blepharoplasty enhances eye appearance, but like any surgery, there will be scarring. Scarring is a natural part of surgery, but most scars fade and can be well-concealed. With proper pre and post-operative care and potential professional scar treatments, scar visibility can be significantly reduced.
Don't let worry about scarring overshadow your youthful appearance. With the right knowledge and resources, you can effectively manage blepharoplasty scars and enjoy the benefits of your procedure.
If you have any questions about blepharoplasty or blepharoplasty scarring, consult with Dr. Douglas Steinbrech, a board-certified plastic surgeon in New York. You can call (646) 949-0580 or fill out our online contact form to schedule your consultation.