The search for a forever fix to the signs of aging has long been sought after by many. But can blepharoplasty provide a lasting solution? Blepharoplasty, commonly called eyelid surgery, is a procedure that rejuvenates the appearance of the eyes by addressing issues such as drooping eyelids, bags under the eyes, and other aesthetic concerns.
This surgical procedure can tighten and tone the eyelids, making the eyes appear more youthful and refreshed.
However, while the results of blepharoplasty can be transformative, they are not necessarily permanent. The duration of the results generally lasts about 10 to 15 years, but they can vary since there are several factors patients have to be aware of.
Blepharoplasty and Its Results
Blepharoplasty is a transformative cosmetic procedure that addresses a variety of eyelid concerns. This surgical procedure is designed to rejuvenate the appearance of the eyes, tackling issues such as droopy eyelids, puffy eyelids, and bags under the eyes.
The procedure can be categorized into two types: upper blepharoplasty and lower blepharoplasty. Both types can usually be done in a single surgery if needed.
Upper eyelid surgery (upper blepharoplasty) targets drooping eyelids and excess skin. This procedure removes extra tissue and fat, enhancing the eyes' youthful appearance. The effects can be seen immediately and fully develop after the healing period, lasting around seven years.
Lower blepharoplasty targets lower eyelids, addressing eyelid fat prolapse and under-eye bags by removing extra tissue and tightening loose skin. This procedure, offering lifetime results, is a favored solution for persistent aesthetic issues of the lower lids.
The Healing Process After Blepharoplasty Surgery
The healing process after blepharoplasty is crucial and requires strict adherence to the surgeon's post-operative care instructions. The recovery period, typically 10 to 14 days, involves skin healing and the body's response to the procedure.
During this time, patients may experience discomfort, but under the guidance of a board-certified plastic surgeon, a comfortable recovery is achievable. The initial healing stage may include swelling and bruising around the upper eyelids, a common effect of eyelid surgery.
Factors That Affect the Longevity of Blepharoplasty Results
Several things can influence the longevity of blepharoplasty results.
Age and Skin Elasticity
As skin ages, it loses elasticity, which can lead to the recurrence of drooping eyelids or the appearance of fullness under the eyes. The age at which the procedure is performed can influence how long blepharoplasty results last.
Lifestyle Factors Such as Smoking and Sun Exposure
Lifestyle factors can also affect the longevity of blepharoplasty results. For instance, smoking and prolonged sun exposure can accelerate skin aging and potentially shorten the lifespan of the results.
Genetic Predispositions
Genetic predispositions, including certain skin conditions or specific aging patterns, can significantly influence the longevity of blepharoplasty results. For instance, some individuals may have a genetic predisposition to eyelid fat prolapse, a condition where fat pushes forward into the eyelids, causing puffy eyelids or bags of fat under the eyes. This can affect the results of both upper eyelid blepharoplasty and lower eyelid procedures.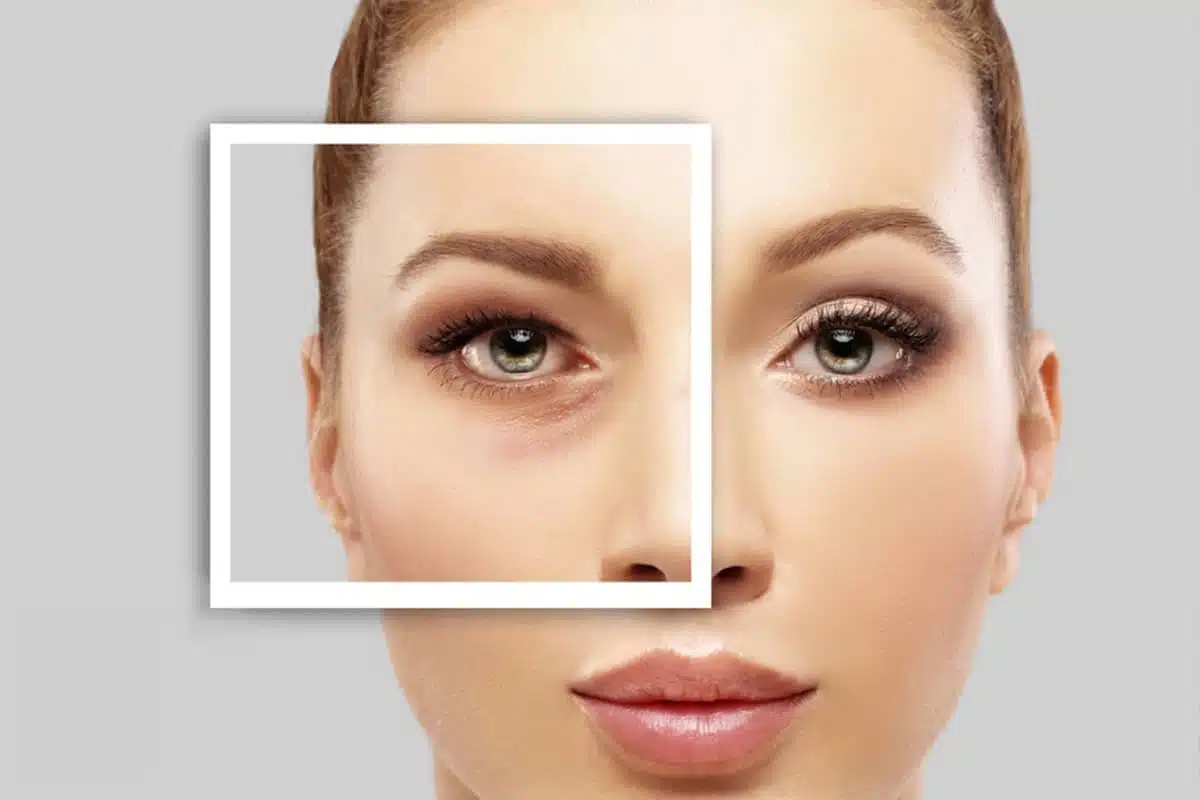 Proper Post-Operative Care and Maintenance
To have a successful healing process after eyelid surgery, the importance of proper post-operative care and maintenance cannot be overstated. Following the surgeon's post-operative care instructions can significantly impact the longevity of the results.
It is vital to be diligent in protecting the eyes from the sun, as sun exposure can interfere with the healing process and potentially cause scarring. Also, cold compresses or ice packs and keeping the eyes moist with artificial teardrops or prescribed eye creams can help reduce inflammation and promote faster healing. Your surgeon will let you know what to use and how often.
Patients should also limit physical activity, particularly strenuous activities, throughout the recovery period. Following these guidelines and any other prescribed care will help to give you a smooth recovery, free from any complications.
Tips for Maximizing the Longevity of Blepharoplasty Results
To maximize the longevity of your blepharoplasty results, there are several key steps you can take. First and foremost, it's important to maintain a healthy lifestyle. This includes staying hydrated by drinking plenty of water and consuming electrolytes.
A balanced diet rich in collagen molecules can also support the skin's healing process and maintain its elasticity. Regular physical activity, within the limits of your recovery process, can also contribute to overall skin health and a more long-lasting, youthful appearance.
Regular follow-up procedures with the surgeon can also help maintain the results of the blepharoplasty.
Potential Signs of Aging After Blepharoplasty
Despite the transformative effects of eyelid surgery, it's important to remember that blepharoplasty does not stop the natural aging process. Over time, potential signs of aging may start to appear, even after a successful procedure. These signs could include deep lines, drooping eyebrows, or bags of fat under the eyes. These changes are normal and part of the natural aging process.
The appearance of fullness under the eyes may also return, indicating the need for further cosmetic treatments. The upper eyelid skin may start to show signs of aging. This could manifest as excess skin, which might necessitate an upper eyelid correction or another type of eyelid procedure. Puffy eyelids, a common sign of aging, might also reappear over time.
Realistic Expectations for Long-Term Outcome
Setting realistic expectations for the long-term results of blepharoplasty is key to patient satisfaction. While the procedure can significantly improve the appearance of the eyes, it is not a permanent fix. The longevity of the results can vary from person to person, depending on factors such as age, skin elasticity, lifestyle habits, genetic predispositions, and post-operative care and maintenance.
During the initial consultation, the plastic surgeon will discuss the expected results and longevity of the procedure. Patients are encouraged to ask questions to fully understand the procedure, recovery process, and long-term outcomes. This helps to ensure that the patient's eyelid goals align with what can realistically be achieved through blepharoplasty.
Conclusion
Blepharoplasty is a powerful procedure that can dramatically improve the appearance of the eyes, providing long-lasting results. However, it's important to remember that the longevity of these results can be influenced by age, skin elasticity, lifestyle habits, post-operative care, and more.
To maximize the lifespan of your blepharoplasty results, maintaining a healthy lifestyle and following your surgeon's post-operative care instructions are crucial.
If you're considering blepharoplasty, consult with an experienced board-certified plastic surgeon like Dr. Douglas Steinbrech. Along with his extensive training, expertise, and compassion, he is known for his excellent outcomes using both surgical and nonsurgical techniques.
To find out more about blepharoplasty or to schedule a consultation with Dr. Steinbrech, fill out an online contact form or call (646) 949-0580.