When it comes to physical appearance, one of the areas that can significantly impact men's confidence is the chest.
Gynecomastia, the growth of breast tissue in male individuals, can cause discomfort and self-consciousness.
This article will explore male breast reduction exercises that can help reduce the appearance of gynecomastia and build a more confident chest.
What is Male Breast Reduction?
Male breast reduction is a comprehensive process specifically designed to target and reduce excess breast tissue and fat in the chest region. This can be achieved through a variety of methods, including surgical breast reduction, which involves the removal of excess breast gland tissue and fatty breast tissue, and non-surgical solutions, such as a dedicated exercise routine and a balanced diet.
Enlargement of breast tissue in men due to hormonal imbalance, known as true gynecomastia, is a rare condition as most men maintain a balance of hormones that inhibits breast tissue growth. However, excess chest fat from weight gain can create the appearance of breasts, called false gynecomastia.
Unlike true gynecomastia, false gynecomastia does not involve glandular tissue growth, only excess fatty tissue. Regardless, this can still cause discomfort and alter the breasts' appearance.
Benefits of Exercise for Male Breast Reduction
The Role of Exercise in Reducing Gynecomastia
Exercise plays an important role in reducing the appearance of both true and false gynecomastia. It's important to note that while it's not possible to target an area for fat loss specifically, certain exercises can help reduce overall body fat and build muscle mass, which can significantly improve the appearance of the chest.
Targeted Workouts Help
There are two main types of exercises that can help reduce the appearance of gynecomastia: cardio exercises and chest exercises.
Cardio exercises like walking, running, using a rowing machine, or swimming can help reduce your body mass index (BMI). On the other hand, exercises that focus on chest engagement can help build pectoral muscles, leading to a firmer and more toned chest appearance.
This combination can lead to a more defined and even-toned chest. It's also important to include a variety of exercises in your routine to engage your entire body through different muscle groups and prevent workout fatigue.
Emphasizing the Importance of a Holistic Approach
While exercise is important, it's equally recommended to adopt a holistic approach when going for male breast reduction. This includes maintaining a healthy diet, keeping a check on hormone levels, and making certain lifestyle changes. All these factors combined can lead to a more effective solution for breast enlargement.
Effective Male Breast Reduction Exercises
Exploring Exercises that Target the Chest Area
Various exercises can help reduce the appearance of gynecomastia by strengthening the chest muscles. One of the most effective chest workouts is the bench press, a common strength training exercise that targets the pectorals.
Push-ups, a simple bodyweight exercise, also activate the chest muscles. For more focused activation, bent-forward cable crossovers isolate the pec muscles as you move your arms across your body.
Developing the underlying chest muscles with targeted exercises like these can help tighten the area and minimize the look of enlarged breast tissue.
Consistency and Progressive Training
The key to seeing results from these exercises is consistency and progressive training. When beginning a workout routine, take it slowly at first rather than pushing yourself too hard immediately.
Attempting to run too long or lift something too heavy can lead to injuries. Gradually increasing the intensity of your workouts will help your body adapt to the new routine and will lead to more sustainable results.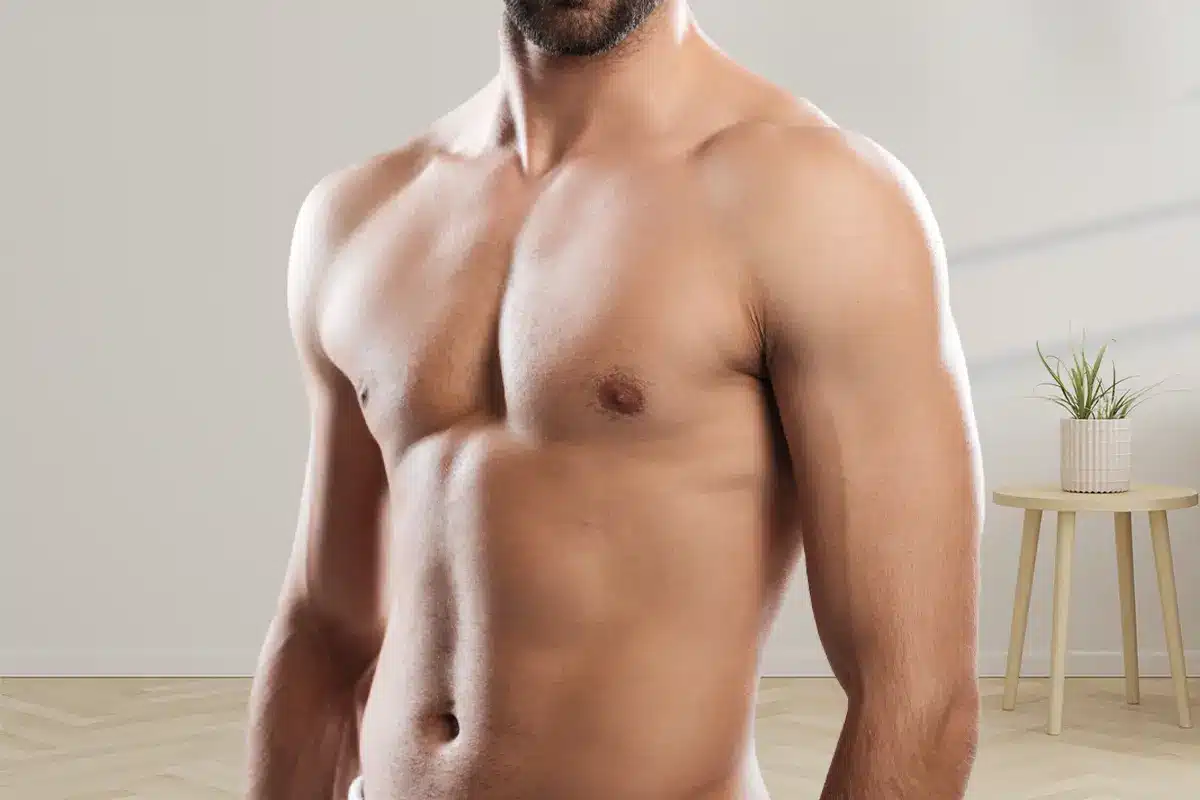 Dietary Considerations
Nutrition in Supporting Male Breast Reduction
Nutrition plays a significant role in supporting male breast reduction. Losing weight through diet is another way to get rid of excess skin and fat all over your body, including the chest region. Fruits and vegetables, which are low in calories and high in nutrients, water, and dietary fiber, are recommended for weight loss.
Significance of a Balanced Diet
A balanced diet that includes whole grains, lean proteins, and other healthy, whole foods is key to weight loss and overall health. It's also important to maintain a calorie deficit, which means burning more calories than you take in. Protein intake is particularly crucial for muscle building. Try to consume between 0.8 and 1 grams of protein daily for every pound of your target body weight.
Tracking Progress
Monitoring Changes in Chest Size and Appearance
Monitoring changes in chest size and appearance can help you track your progress and stay motivated. This can be done through regular measurements and visual assessments. Noticing improvements over time can boost your confidence and encourage you to stick with your exercise and diet plan.
Achievable Goals and Timelines
When trying to reduce gynecomastia, it's important to set realistic goals and timeframes.
Remember that significant changes won't happen overnight. Reducing enlarged breast tissue requires consistency and patience.
Set achievable targets in both fitness, like increasing bench press weight, and aesthetics, like minimizing puffy nipples, and define reasonable timeframes to meet each milestone.
Lifestyle Factors
Lifestyle Choices on Gynecomastia
Certain lifestyle factors like alcohol consumption, stress levels, sleep habits, and overall health can influence hormone balance and body composition.
Making positive changes in these areas can complement exercise efforts and maximize their effectiveness in reducing the appearance of gynecomastia.
Factors Like Stress, Sleep, and Overall Health
High stress and lack of sleep may disrupt hormone levels, potentially leading to increased body fat and exacerbated gynecomastia.
Incorporating stress management techniques and ensuring adequate nightly sleep supports overall health. Reducing alcohol intake can also help avoid hormone fluctuations that contribute to gynecomastia.
How Lifestyle Changes Can Complement Exercise Efforts
By combining targeted chest exercises with lifestyle changes that promote optimal hormone levels and body composition, men can create an internal environment conducive to chest muscle growth and fat loss.
This multipronged approach helps tighten chest tissue and minimize the look of enlarged breast tissue for more significant and lasting results.
Consulting Dr. Steinbrech
If you're struggling with gynecomastia and the impact it has on your self-confidence, it may be beneficial to consult an expert in the field, such as Dr. Douglas Steinbrech.
As a board-certified plastic surgeon, Dr. Steinbrech offers a range of procedures, including male breast reduction, to help patients achieve their desired physique. His practice is dedicated to providing patients with the best possible care and results. For more information or to book a consultation appointment, fill out our online form or call 646-949-0580.