While tummy tuck surgery might sound like a procedure exclusively for women, in reality, they're anything but. The male tummy tuck has emerged as a popular choice for men seeking a sleeker, more defined midsection. Whether you've shed significant weight loss or simply want to combat the natural effects of aging, this guide is tailor-made for you
Understanding the Male Tummy Tuck
Unlike the generic procedure, the male tummy tuck is fine-tuned to cater to the male physique. It's all about enhancing those masculine contours by shedding extra skin and firming up the abdominal muscles. The procedure targets the abdominal skin, removes the skin after weight loss or aging, and tightens the stomach muscles, giving a skin-taut appearance that many men desire.
Why Male tummy tuck is getting more popular
It's more than just a trend. The male tummy tuck is rapidly becoming a staple for men wanting to regain a youthful abdomen, boosting not just appearance but also confidence. The vast majority of men are now more open to cosmetic surgery to achieve their aesthetic goals.
With societal acceptance growing and the clear results it provides, the male tummy tuck has found its place in the plastic surgery realm, offering a solution to abdominal region concerns that were once tough to address.
Surgery Breakdown for Men
Men, here's what's in store for you:
Mini Tummy Tuck for Men A nuanced intervention, primarily focusing on the lower belly, perfect for those men on the brink of their ideal weight but needing a finishing touch.
The Complete Male Makeover An all-encompassing transformation, this approach addresses both the skin and the underlying muscles, sculpting a striking male torso.
Male Tummy tuck Before and after photos
Dr. Steinbrech is a renowned board-certified plastic surgeon who understands the importance of seeing before and after photos when considering a tummy tuck procedure. He has made it his mission to provide as many relevant photos as possible for potential patients. With extensive access to images of his work, men can gain an accurate understanding of what they might look like after their transformation.
This helps them make the right decision regarding their surgery. Images also allow men to better understand the changes that will occur and how realistic their expectations should be for the results. By viewing the results of previous abdominoplasty surgeries, men can get a better idea of whether or not this is the right decision for them.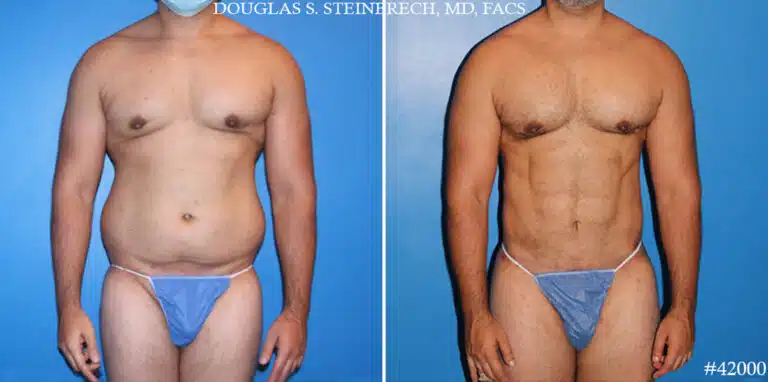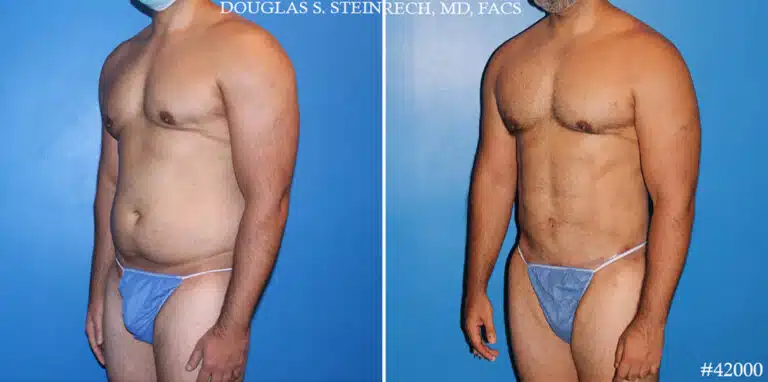 Tummy Tuck Benefits for Men
If you're considering a tummy tuck surgery to help get that six-pack look you've been dreaming about, here's what you can expect:
A rejuvenated, confident strut in any outfit.
A trimmer, athletic midsection.
Relief from skin-related discomforts linked to loose skin.
A boost in core strength, enhancing athletic prowess.
Renewed zest in physical activities without skin hindrance.
The belly button may be repositioned or reshaped to ensure a natural and aesthetically pleasing look.
How to prepare for your male Tummy Tuck
Any man considering a tummy tuck should understand that it is a major surgical procedure. As with any journey, preparation is pivotal to ensure the best possible outcome. It is important to research and be aware of what to expect before, during, and after the surgery.
How men recover from tummy tuck
Pain management: The first two weeks are the most challenging, with discomfort easing as swelling subsides. Pain medications, ice packs, and compression garments can assist in reducing discomfort.
Activity Restrictions: To reduce the risk of complications, strenuous activities should be avoided for at least six weeks. Light walking is encouraged to aid in circulation and healing speeds.
Surgical Scarring: Although scars fade over time, this depends on genetics and other factors. Regularly applying scar creams can improve the appearance of scars.
Embrace the Compression Garments: Tummy tuckers for men are essential in reducing swelling and aiding in the healing process.
Scar Care: Diligent monitoring and care, including the application of recommended creams, contribute to a better healing process and the appearance of scars.
Diet and Hydration: Maintain a balanced diet and stay hydrated to support the healing process.
Follow-Up Appointments: Attend all scheduled follow-up appointments with your surgeon to ensure a smooth recovery and address any concerns promptly.
Tummy Tuck vs. Liposuction: The Male Perspective
Tummy tuck surgery focuses on removing saggy abdominal skin and refining the abdominal region, which is ideal for men who have experienced significant weight loss or aging effects, leading to loose skin. This procedure not only removes excess skin but also tightens the abdominal muscles for a firmer, toned stomach.
On the other hand, liposuction targets pockets of fat without addressing sagging skin. It is a suitable option for men close to their ideal weight but struggling with stubborn fat deposits that are resistant to diet and exercise and seeking a more contoured physique.
Is Male Tummy Tuck the Right Choice for You?
Are you considering a tummy tuck but have heard that it's mainly for women? This surgical procedure is ideal for men who want to get rid of excess fat and skin around the midsection and achieve a more toned look, but not every man is a candidate. It hinges on various factors:
Current Health Status: Men in good physical health are typically better candidates.
Medical History: Past surgeries, chronic conditions, and other health factors could influence candidacy.
Skin Elasticity: Men with skin after weight loss or aging may find this procedure beneficial for removing extra skin.
Body Fat: Those with localized pockets of fat in the abdominal region might benefit the most.
Personal Goals: Men aiming for a flatter stomach and more defined abdominal contours.
Commitment: Willingness to maintain a stable weight post-surgery to ensure enduring results.
Realistic Expectations: Understanding the potential complications and outcomes from the surgery.
Non-Smokers: Smoking can complicate both the surgery and the healing process.
Awaiting the New You: When Will Men See Results?
Patience, gents, Initial results are visible soon, but the final sculpted look emerges weeks after surgery as swelling subsides and the body fully heals. It's crucial to follow your surgeon's guidelines diligently for the best outcomes.
Is Scarring after Tummy Tuck a male concern?
Skilled surgeons make discreet incisions, often in natural body creases. With time and proper care, scars fade considerably. Regular follow-up appointments allow your surgeon to monitor the healing process and suggest care for faster scar reduction.
Utilizing recommended scar creams and silicon sheets can aid in making scars less noticeable. The expert team at the plastic surgery center is trained to minimize scarring and provide post-operative care instructions to manage and reduce scarring appearance over time.
Can Men Combine Procedures?
Men can pair a tummy tuck with liposuction or even chest sculpting to achieve a harmonious, chiseled look. Moreover, combining these cosmetic procedures under the guidance of a board-certified plastic surgeon can often be more cost-effective and may reduce the overall recovery process time.
Men can also consider adding a procedure like arm lifting to address loose skin in other areas, ensuring a more comprehensive approach to meeting their aesthetic goals. Such popular procedures could be discussed during the initial consultation to devise a tailor-made plan that addresses all concerns and works towards crafting a more toned stomach and overall contoured physique.
The Lifespan of a Male Tummy Tuck
With a stable weight and a healthy lifestyle, the results can be enduring. However, achieving a flatter stomach is not just a one-and-done deal; it's a lifetime commitment. Significant fluctuations in weight can impact the longevity of your tummy tuck surgery, potentially leading to stretched or loose skin and altered contours.
Engaging in regular physical activities, maintaining a balanced diet, and avoiding weight gain is pivotal in preserving the sculpted outcomes. Moreover, follow-up visits to your plastic surgery center can provide valuable insights and professional advice on keeping your abdominal region in prime condition for years to come.
Gentlemen, if a firmer, more youthful abdomen is on your wish list, then it's time to explore the male tummy tuck. Dr. Steinbrech is a renowned plastic surgeon from New York, he will guide you through every step, ensuring a tailor-made experience just for you at his plastic surgery center, where an expert team of surgeons will work towards achieving your aesthetic goals.