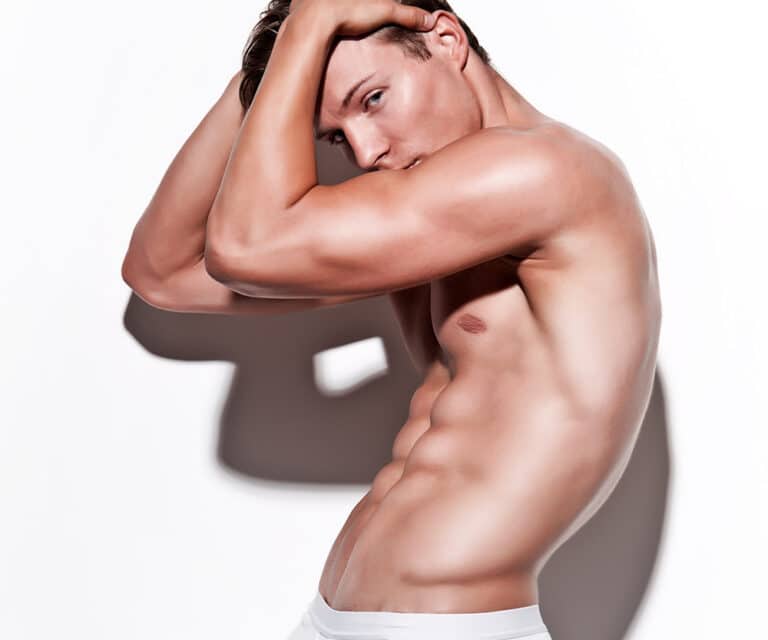 With Plastic Surgeon Dr. Steinbrech of New York and LA
Renowned plastic surgeon Douglas S. Steinbrech, MD, FACS, has developed an innovative, non-surgical procedure called the Male Model Makeover to instantly enhance and transform men's faces. The procedure is quick, painless, and can improve patients' looks immediately, creating striking and attractive facial contours. Through a series of injections, Dr. Steinbrech enhances the masculinity of the face and camouflages imperfections.
An Innovative Use for Dermal Fillers
Facial fillers, also known as dermal injections, have been used in women's aesthetics for years. These popular treatments can fill in lines and wrinkles, plump the lips, and enhance the cheekbones. While fillers are known for enhancing feminine beauty, they can also be used to contour and create masculine attractiveness. The Male Model Makeover's results are immediate, require little to no downtime, and last for several months—as long as the chosen filler lasts. It's a convenient and effective option for men on the go.
How the Male Model Makeover Procedure Works
During the treatment, Dr. Steinbrech injects a gel filler into the upper, mid, and/or lower regions of the face for a dramatic, yet natural makeover. Dr. Steinbrech can introduce the gel under the eyes to brighten the area, decreasing dark circles or a hollowed under-eye appearance. This technique emphasizes the eyes while restoring youth to the area.
By adding height to the cheekbones, the doctor can create an attractive curvature of the midface. Dermal injections can be injected into the nose to contour a nasal hump, asymmetry, or to create a different nose shape. A rhinoplasty or "nose job" creates permanent changes to the structure, but nonsurgical rhinoplasty may be just as effective in some cases.
Other common injection sites during Male Model Makeover are the chin and jawline, strengthening the lower face and creating a more chiseled look. Each procedure is tailored to meet the patient's specific needs and goals.
Enhancing and Creating Masculine Facial Proportions
The Golden Ratio is a set of proportions found in nature that can be used as a guideline to produce the best cosmetic results for men during treatments like the Male Model Makeover. An expert understanding of the anatomical differences that develop during puberty due to the surge of male- or female-specific hormones helps Dr. Steinbrech enhance masculinity using only fillers. This tactic is utilized in two different perspectives: a frontal view and side view of the face. Our appearance is three-dimensional and it must be altered taking this into account.
Common Injectable Fillers for Men
The Male Model Makeover can be performed using a number of different fillers. Dr. Steinbrech has the expertise to choose the best filler for each patient, but some of the most popular include:
Restylane
Long-lasting and used for more than 20 years in aesthetic medicine, this filler carries little chance for a negative reaction. It is biocompatible and composed of hyaluronic acid, which attracts water molecules to naturally bring volume to the area where it is injected.
Radiesse
This filler is made of minerals naturally occurring in human bones so it carries less risk of sensitivity. It can successfully treat lines, wrinkles, and facial scarring that detract from a man's looks.
Sculptra
Sculptra results can remain for up to two years and the main ingredient is AHA, or alpha hydroxy acid, that has been deemed safe for over 20 years in medical procedures. Sculptra is an alternative to facial implants because it remains in place without the need for touch-ups.
Contact Us
Dr. Douglas S. Steinbrech is a bicoastal practitioner, serving patients in both Beverly Hills, CA and New York, NY. While the doctor treats a number of actual models, it is his simple, yet innovative approach to facial plastics that attracts a wider patient demographic. Men who seek the good looks and sharp features of a model can benefit from this exciting new procedure. To learn more, contact Dr. Steinbrech's offices using the information below.
Male Model Makeover at the New York location – (646) 949-0580
Male Model Makeover at the Lost Angeles location – (310) 570-2402